Dr. Dietmar Kubis
Chairman of the Supervisory Board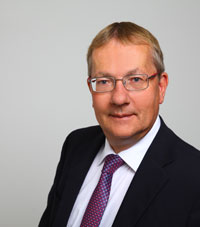 Business fields
Shareholding transactions

Concern

Holding company

Stock market and capital market law
Qualifications
Doctor of Law

Corporate Law – Group Law

Chairman of the Board of listed holding company

Author of leading legal comments
Dr Dietmar Kubis studied law in Hamburg. From 1988 to 1994, he worked at Daimler-Benz AG in Stuttgart in the legal department for corporate and group law.
After the German reunification, Dr Dietmar Kubis moved to Jena and began a position as Chief Corporate Lawyer at JENOPTIK GmbH. After the company was listed on the stock market, he was a member of the Executive Board until 2002, where he was responsible for all legal and equity investment matters. In 1998, he also became Board Spokesman of the listed holding company Deutsche Effecten- und Wechselbeteiligungs-Gesellschaft AG (DEWB AG).
Since 2005, Dr Dietmar Kubis has been a partner of ACADA Rechtsanwaltsgesellschaft mbH in Jena. He also holds Supervisory Board mandates at Frauenthal Holding AG (Vienna), dotSource GmbH (Jena), MacroMol GmbH (Jena) and the GUB Investment Trust (Schwäbisch Hall).
In 2018, Dr Dietmar Kubis joined the Supervisory Board of Aifotec AG. Quote: "Aifotec is a pearl that has achieved international relevance in the field of high-end bonding and engineering. Aifotec's customers are high-profile microelectronics brands."
Publications
We invite our shareholders to the General Meeting to be held on 03/05/2016 at 12:00pm in the offices of Aifotec AG, Herpfer Straße 40, 98617 Meiningen.