Dr. Gunther Vollrath
Chief Executive Officer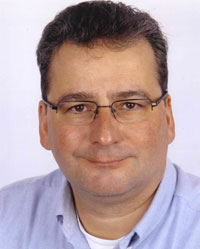 Business fields
Development

Production

Sales and Marketing
Qualifications
35 years of experience in optoelectronics

Strong network in the photonics industry

Expert in the field
Dr Gunther Vollrath studied engineering at the Technical University "Carolo-Wilhelmina zu Braunschweig", specialising in optoelectronics, semiconductor technology and semi-conductor physics. As part of a scholarship from Deutsche Telekom AG, he wrote his dissertation at the "Research and Technology Centre of Deutsche Telekom" in Darmstadt and was awarded a doctorate in engineering.
After working as a consultant at Deutsche Telekom AG, Dr Vollrath became the co-founder of Aifotec AG, where he provided support to the positions of CTO and COO. In 2001, Aifotec AG was sold to Finisar Corp, the world market leader in the photonics industry. After providing support to Finisar Germany GmbH, Dr Vollrath became co-founder of Aifotec GmbH in 2002, and since then has assumed responsibility as CEO.
"As the CEO, I am proud of our young international team of engineers. Our motivated employees solve the complex challenges posed by our high-profile customers. This makes Aifotec an important cooperation partner in the opto-electronic components industry."
Publications
We invite our shareholders to the General Meeting to be held on 03/05/2016 at 12:00pm in the offices of Aifotec AG, Herpfer Straße 40, 98617 Meiningen.
contact details
Herpfer Str. 40 98617 Meiningen, Germany
Contact
Should you have any enquiries, require further information, please contact Dr. Vollrath: