Autonomous driving: Aifotec constructs the optical modules for this technology.

Sensor-based measuring systems: needle-free blood glucose monitoring and cancer detection.

High-speed optical transmission in data centres.
Optical data transmission with light: fast, unimpeded and over long distances.
Aifotec AG - is an international company for high-precision assembly development and production services in the photonics industry.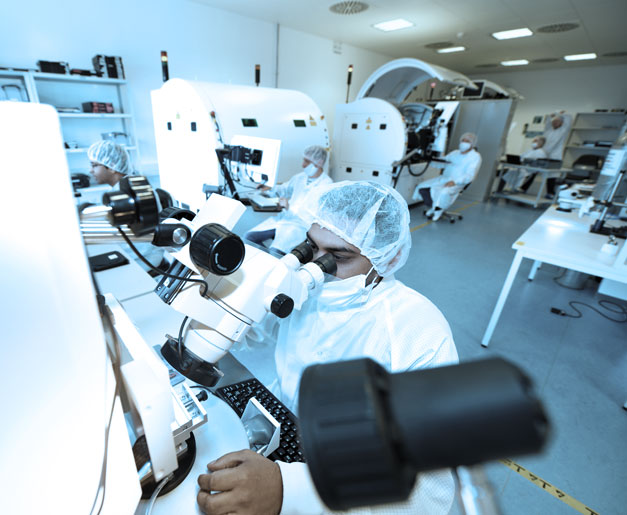 Internationally leading brands in the industry rely on Aifotec's advice. With the develop-ment of our precision components which are "Made in Germany", Aifotec customers opt for the highest standards in terms of quality and precision.

We focus our innovative strength on the development of photonic components in future markets such as autonomous driving, data transmission and medical technology. With ever-increasing demands on these progressing technologies, the complexity of Aifotec's individual fields is also increasing.
In Meiningen, in the Thuringian Forest, we provide our customers with manufacturing knowledge that covers everything from prototyping to series production – complete with high-tech machinery and a state-of-the-art clean room.
International customers from the electronics industry rely on Aifotec's state-of-the-art photonics laboratory. The latest flip chip bonders at Aifotec work together with the most creative and motivated photonics engineers. It is right here in the Thuringian Forest where the world-famous "Made in Germany" products are created.
Aifotec's development engineers competently deal with development orders at the high-est level. Each one of our Aifotec engineers is proud to provide our customers with the best possible photonic solution.
Find out more...
Aifotec develops innovative assembly and bonding concepts for photonic and semicon-ductor components. In doing so, we achieve precision of ± 0.5 μm.

Aifotec owns major PCT patents in the field of fibre optic cable coupling.

Our development engineers work with both eutectic and epoxide compounds. Our de-velopments support all leading materials such as glass, ceramics, polymer, lead frame, PCB and silicon.
Find out more...
Made in Germany
The best development engineers from the field of photonics work at Aifotec. Aifotec has been recognised as a leading academic network partner in German and European research networks for 20 years.
Extreme Precision
Our state-of-the-art machinery enables assembly with extreme precision (0.5μm) and very high yield at more than 99%. We are able to fulfil the challenging objectives of our customers in photonics and microsystems technology.
Reliable Partners
The largest chip manufacturers in the world rely on Aifotec's high development quality, and for 20 years now have valued the adherence to deadlines in their demanding de-velopment co-operations.
Broad Shareholder Base
With Rosenberger Hochfrequenztechnik GmbH & Co. KG as the main shareholder, the executive board and 30 other shareholders, Aifotec AG has a broad investor base.
Partners
Our partners are appreciative of the fact that Aifotec is a leading developer in the field of photonics.
Your Benefits:

Top photonics engineers with the highest standard of training

Highly motivated team who are therefore very fast, flexible and adaptable

State-of-the-art technology and machinery for high-tech engineering that is "Made in Germany"

Assembly with extreme precision (0.5 μm) and very high yield of over 99% guaranteed

Our partners are international microelectronics brands, as well as small and medium-sized businesses and high-tech start-ups

Aifotec is a leading academic partner in European research networks such as Phastflex, Inspect, Plat4M

Aifotec AG strives to be the leading international photonics specialist and to provide wings to the demands of the electronics industry
Investors
The technological field of photonics is the technology of the future for all areas of electronic communication. Aifotec's shareholders have been involved in this dynamically growing development right from the start.
Your Benefits:

With Aifotec AG, investors are backing the leading developer of photonics

Aifotec has enjoyed high recognition as a leading academic network partner in European research networks

Business growth can be predicted based on the rapid market development

Aifotec offers institutional investors investment opportunities

The vision of Aifotec AG is to be a leading international specialist in photonics and to dynamically increase the company value for our shareholders
We invite our shareholders to the General Meeting to be held on 03/05/2016 at 12:00pm in the offices of Aifotec AG, Herpfer Straße 40, 98617 Meiningen.