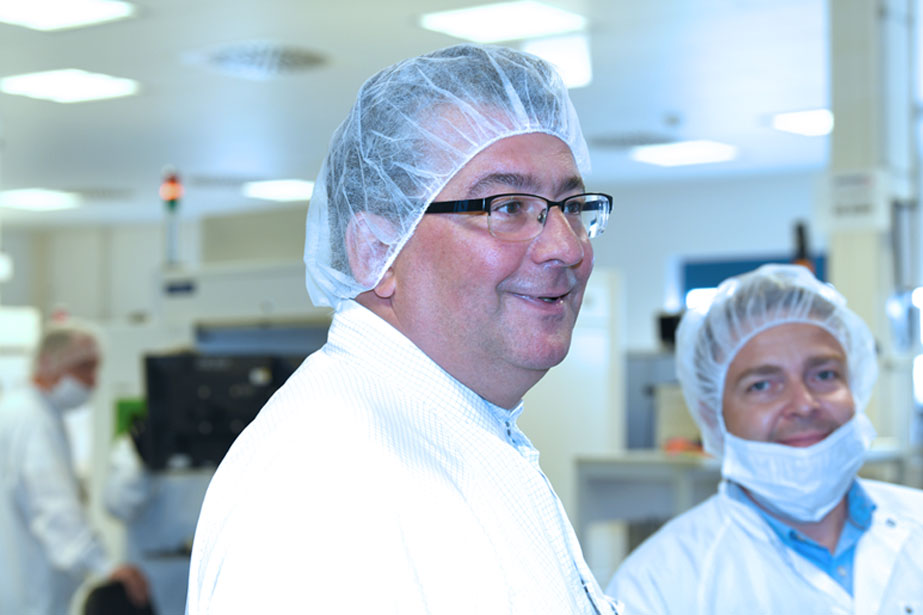 Business summary
When production involves micro-optical components that need to be assembled and interconnected, Aifotec is the first port of call on the market!
Aifotec develops every type of assembly and bonding technology for photonics.
Our customers are the world market leaders in microelectronics. They value our extensive engineering knowledge and the high precision of our manufacturing in bonding and packaging to ± 0.5 μm
Eutectic Bonding
Technology
For eutectic bonding/soldering, laser and hotplate-based bonding systems are available. Components of sizes from 100 microns to a few centimetres can be assembled. The accuracy after assembly is better than 1 micron Find out more……
Development
Services
We advise in areas such as process development, system selection, structure strategy, design for manufacturability (DfM), pilot and qualification runs, training and system optimisation.
Epoxy Bonding
Technology
For epoxy bonding, different systems are available for UV as well as thermally curable epoxy. Alignment can be made actively or passively.
Production
Services
Contract manufacturing service from prototyping, contract manufacturing from low to medium volume up to volume production, also as 2nd source.
Fibre Coupling
Technology
There are various systems available for coupling glass fibres or glass fibre arrays. Alignment can be made actively or passively.
Partner
Services
Partner for hermetic packaging, thermal design, HF design, PCB and plant engineering, and high volume production in Southeast Asia.
Our Vision
Aifotec is the first global stop for the latest solutions in optical assembly and bonding technology.
Our engineers develop assembly and bonding technology for the world's leading micro-electronics brands.
The bonder plants at Aifotec produce the most sophisticated microelectronic solutions – from the prototype through to mass production.
Technological progress
Technology leader
Most complex solutions
International team
Innovation leader
Fast growth
Best engineers
Our experience
High precision assembly
100%
Quality management
100%
Custom engineering services
100%
Employee motivation
100%
Renowned customers
100%
Corporate Development
Aifotec acquires new development partners.

GUB Investment Trust acquires a majority share in Aifotec.

Merger between Aifotec and Stabitrage and emergence of today's Aifotec AG. Kurt Och-ner joins as CFO.

Aifotec produces first million optical components.

Capital increase with participation of Starbitrage AG as an investor.

Completion of the clean room in ISO Class 7. First customers received supplies.

Relocation of the registered office from Munich to Meiningen.

Dr Gunther Vollrath demerges Aifotec as part of an MBO from the old Finsar Inc/Aifotec. He founds Aifotec as a contract manufacturer for high-end photonics applications.
Executive officers & Supervisory Board